On the occasion of Mother's day, Thailand Policy Lab wants to introduce two urgent issues that are intimately intertwined with motherhood: unpaid care work and emotional burdens.  
Care work includes a wide array of activities, such as childcare, eldercare, and household chores. Despite its laborious and time-consuming nature, care work is neither valued or recognized as "real work" that deserves worthy wages.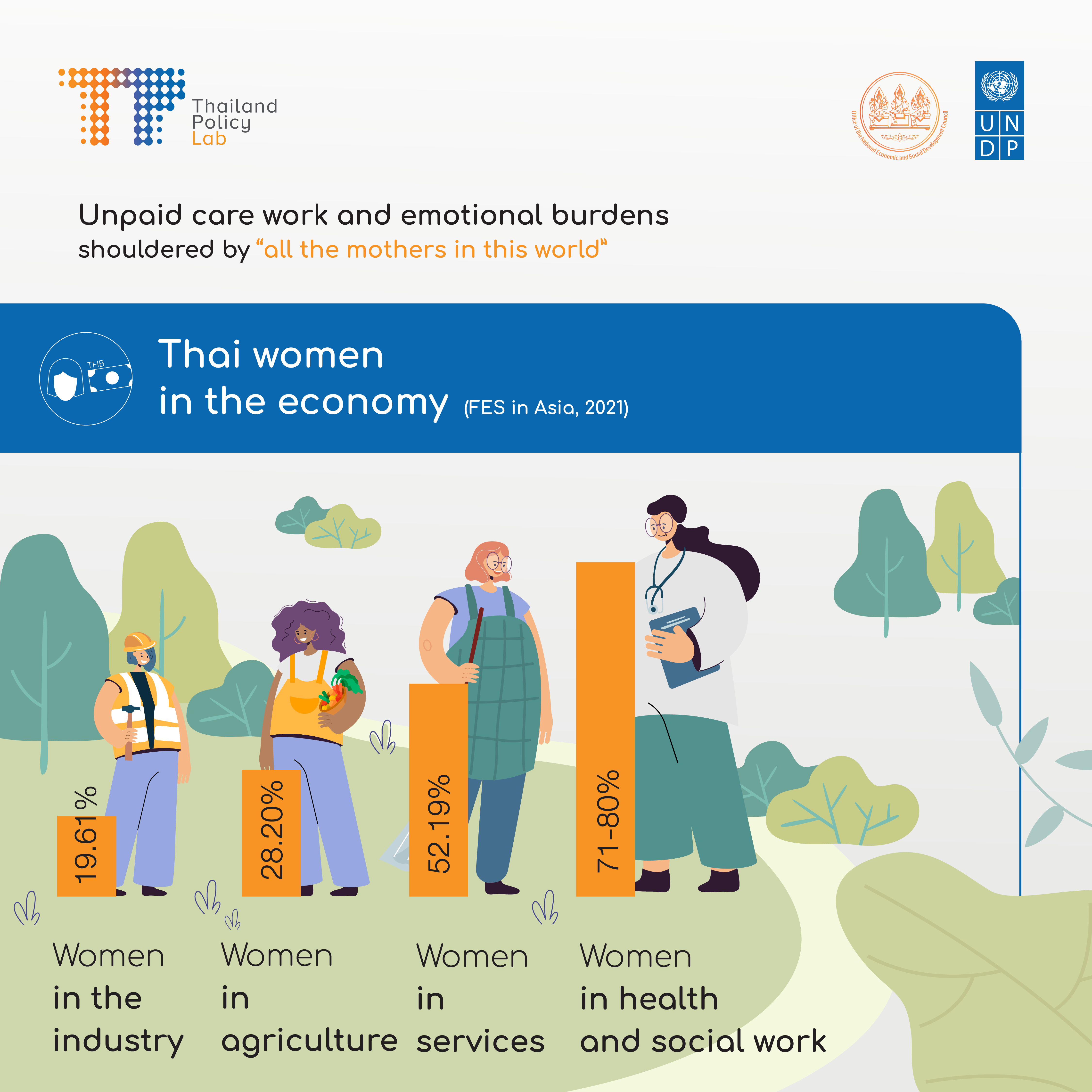 The patriarchal norms dictate that men should be the family's sole "breadwinner" and women should act like "hens that follow the rooster," destined to put the blessings of "maternal instinct" to good use. Following this line of reasoning, women are deemed the natural bearers of care work, and their productivity in the professional realm is trivialized. Despite the fact that women take up household chores and care work three times more than men, women's contributions are historically neglected by economists, policymakers, and the rest of the society.
When the majority of care work falls on women, it means significant reduction in their working hours. In a situation where a caregiver is needed at home, women workers are most likely to be persuaded to quit their jobs. Such a decision deprives women of their financial independence and stability in the long run. Furthermore, women responsible for both domestic and professional work tend to experience mental health deterioration. Double responsibilities, no breaks from labor, emotional impact from close contact with family members — all of these factors potentially lead to mental health issues, such as stress, accumulated fatigue, anxiety, and depression.
During the pandemic, where quarantine and social distancing are widely practiced, the balance between care and paid work is increasingly blurred. In Thailand, more than 26% of women report a sudden escalation in eldercare workloads, while 41% undertake more childcare. Women workers have difficulties performing their job duties as they are the principal caregivers and domestic workers of the household. For financially secure women, other options that relieve them of housework are still available (e.g. houseworkers and babysitters), but women with low income are required to devote the entirety of their time to both paid and unpaid labor. As a result, not only their productivity is greatly affected, their mental health under the pandemic is at critical risk.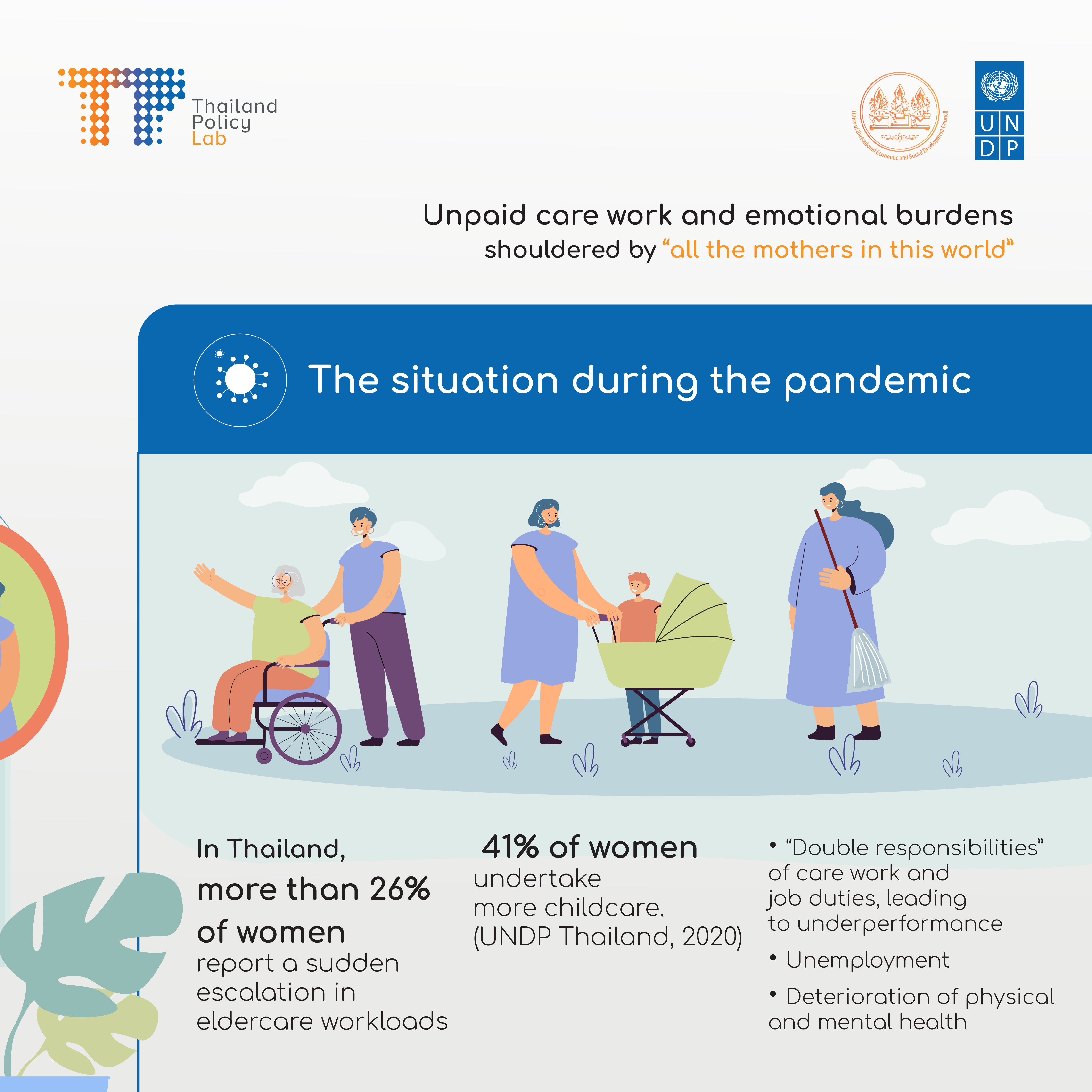 Gender inequalities are progressively deepened, yet Thailand still lacks gender-responsive policy that addresses unpaid care work among women. To take the first step, the government can consider the following recommendations:
1.Implement the policy that subverts gender norms and patriarchal values (e.g. paternity leave).
2.Mainstream and improve childcare centers and related services.
3.Promote paid leave for workers with children or elderly family members under their care.
4.Provide stimulus for care work.
5.Mainstream different modes of work (e.g. flexi hours, distance working) to accommodate the needs and living conditions of primary caregivers. 
References
Rahmadhani, P., Vaz, F., & Affiat, R. A. (2021). COVID-19 Crisis and women in Asia: Economic impacts and policy responses. Friedrich-Ebert-Stiftung Nepal Office.
Seedat, S., & Rondon, M. (2021). Women's wellbeing and the burden of unpaid work. bmj, 374.