"Fantastic work!" can be a much-appreciated compliment, especially for those who work in governmental sectors where red tape exists from top to bottom. Plans and policies have to go through the rigid bureaucratic systems. But let's learn about the "Five Power Rangers," a simple policy approach to unleash all fears and fill the hopes in policy design.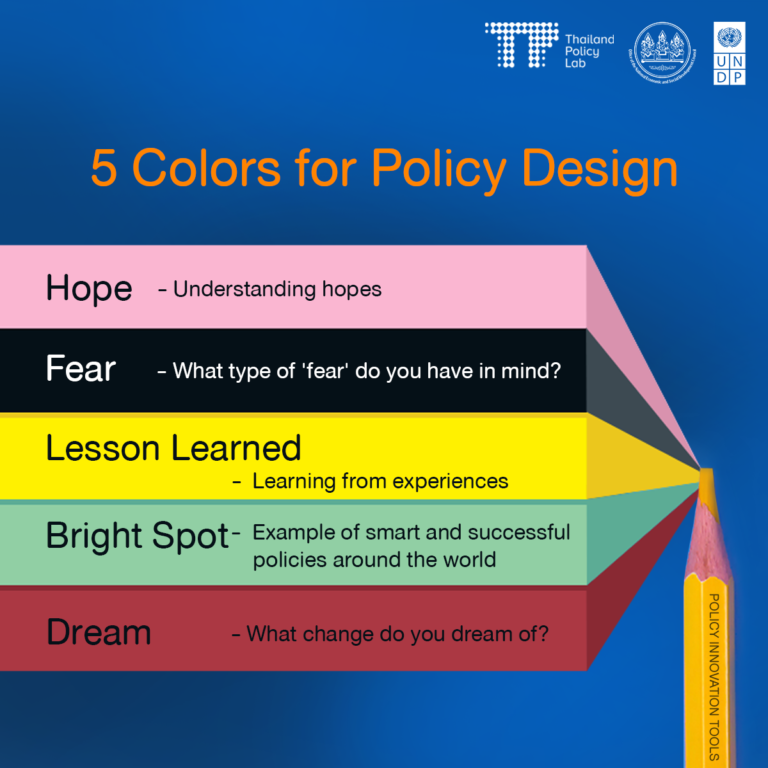 Hope (Pink) is to understand hopes in individual, organizational, and national levels. We can wake up with hope, wishing that tomorrow will be better, and desiring to do our best in what we do. Let's start by looking around if there is any potential for change, which can be the little things around you. For instance, let's hope that your senior colleagues will have more sympathy and empathy towards his/her subordinates in the organization, and our organization will work in a more agile manner. And let's hope that those implemented policies will eventually elevate the people's quality of life!
Fear (Black) is to accept that when there is hope, there is always fear. Let's examine what kind of fear is lurking in our minds. There is no certain answer to what fear should look like, everyone's concern is different. For example, one might fear that one's children won't receive a quality education, others might fear that the elderly people will be left behind. Some might even fear that Thai tourism will never recover. The fear can be relevant or irrelevant to you. Or you can even list out what kinds of fear the government has created!
Lesson Learned (Yellow) is learning from mistakes. If you could turn back time, what do you wish that you should have done better? Perhaps, we need a civil registration system where we can check the information about vaccination registration seamlessly. Maybe we should have had policies to reduce the economic inequality without having to prove their 'poor status' that stigmatizes them. Was there anything else in the past that screamed "that was not right at all!"?
Bright Spots (Green) is something that is done right despite the past mistakes. This can be the smart policies and successful implementations in different areas of work as well as best practices from other countries that can be a model for us. For instance, a universal social pension policy for the elders can help reduce economic inequalities more effectively than requiring the elder to register with the state by themselves. Moreover, we can learn from other countries such as South Korea: how they use the "soft power" and how we can adapt it to our country's products?
Dream (Red) is when you imagine success in the near future. What changes do you dream of? For instance, one might dream of a country where state officials receive a higher wage and complete their duties instead of just abiding by their supervisors. The officials will be promoted by competency, not age. They will receive continuous training to improve new and well-rounded skill sets. Everyone's dream is different; some cannot be easily understood and need explanations. So this is the opportunity to listen and hear what their dreams look like!
"Five Power Rangers" is a method to brainstorm the ideas with the staff in the organization as well as the stakeholders. It is the means to bring everyone's multilayered ideas and creativity to the table. Don't worry that the ideas will be all over the place because there is a process to conceptualize and make them more concrete. It might be a little bit laborious, but what is the use of a smart tool without human imagination?